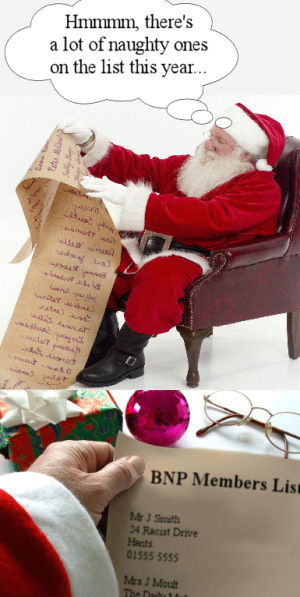 Courtesy of the nice people at b3ta
Background – British Nationalist Party loses entire membership list, list gets put online.
Also, BNP not just policemen, reveals secret list.
Of course, this raises interesting questions about political expression in a society of ever increasing transparency, with further questions about the enforcability of the Data Protection Act and blah blah blah…. F'it, they're scum and now they look like idiots.
Anyways…
Unitarian Jihad!
They threaten to "begin a series of terrorist-like actions. We will take over television studios, kidnap so-called commentators and broadcast calm, well-reasoned discussions of the issues of the day."
"…but did admit he was currently trying to build his own dragon… At the moment I'm working on a fire-breathing alligator strapped to a micro-light."